What makes CAOS Pro the coolest Google Analytics plugin for WordPress? Well, a bunch of things! But essentially, it's the way it does things absolutely different compared to other plugins.
Unique Features to Power Up Google Analytics
If you're familiar with the free version of CAOS, you know I do things a little different around here.
CAOS Pro takes things to the next level with features you won't find in any other Google Analytics plugin for WordPress*.
* Until copycats'll copy it, ofcourse 😉
This is an add-on for CAOS that unlocks several features to power up your Google Analytics and protect your website's users, such as:
Increase GDPR Compliance,
True IP Anonymization,
Randomize Client ID,
Stealth Mode, and
Cloaked Affiliate Link Tracking.
These features will allow you to use Google Analytics in a fully privacy-friendly fashion while receiving 100% accurate statistics!
Unlike any other Google Analytics plugin for WordPress, CAOS Pro protects your data and your users' privacy using multiple unique, homebrewed technologies, like Stealth Mode.
Increase GDPR Compliance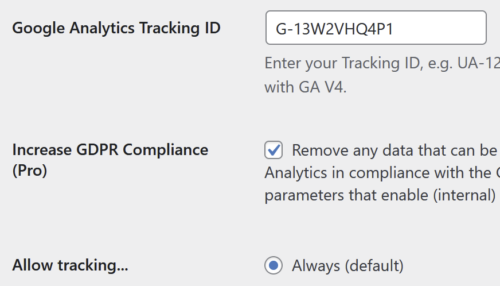 Why look for an alternative if you can keep using Google Analytics in the EU?
The Increase GDPR Compliance feature configures CAOS Pro to follow the recommendations as set by the EDPB (Use Case 2 / Paragraph 85) on using Google Analytics in compliance with the GDPR. It takes care of all the needed technical measures so you won't have to. And all you need to do is check a box!
True IP Anonymization
Google Analytics offers a simple way to anonymize IP's in your Google Analytics data.
However, Austria's privacy watchdog (DSB) recently found this implementation to be faulty and in breach of GDPR.
The reason? The IP is sent to Google Analytics' (US) servers and then masked. So, the IP address is still sent across the ocean, which is against GDPR.
CAOS Pro offers True IP Anonymization, which actually masks your user's IP address before sending it to Google Analytics' servers.
Stealth Mode
Did you know approx. 30% of your visitors use ad blockers? They enter your website and leave -- unseen.
Source: SocialMediaToday
Ad Blockers don't only block ads. They block trackers, like Google Analytics, too. This means you're missing out on accurate date when making data driven decisions for your business!
This is the only (!) plugin for WordPress with Stealth Mode technology to intelligently prevent Google Analytics from being blocked by any Ad Blocker!

Randomize Client ID & Much More…
CAOS Pro offers out-of-the-box client ID randomization. A powerful feature that offers another layer of protecting your visitor's privacy, because it makes cross-site and -platform tracking impossible.
Besides that, you'll find that Cloaked Affiliate Link Tracking is incredibly easy and straight-forward to configure!
In short, CAOS Pro truly is the only Google Analytics plugin for WordPress that finally gets it right.
Reviews
This is a fantastic plugin that takes away a lot of the pain of managing Google Analytics, and the Stealth Mode is brilliant. What's more, Daan provides great support. Thank you.
The plugin does what it advertises, it allows you to see traffic that is otherwise hidden by adblockers.
I ran into problems after a migration though, something broke but I couldn't figure it out. Luckily Daan provider amazing support, far beyond what you'd normally expect from a plugin developer. Never gave up and kept going until the issue was resolved, absolutely would recommend this plugin and the developer behind it!
Hosting Analytics locally has two advantages: the site gets a lot faster and the statistics are 100% accurate. It does not matter which browser or adblock extensions the visitor visits your site, by means of the "CAOS super stealth upgrade" all visitors, whether or not with an anonymous IP address, are counted. This plugin is indispensable when using Google Analytics. I received good support from the developer. He has adapted his CAOS-plugin according to my personal wishes. I'm very happy with it!
Daan's Stealth Mode was crucial in getting correct Google Analytics for our ecommerce website. Now, with the new Super Stealth Upgrade, we're confident that our Analytics are 100% accurate and not affected by any ad blockers. This plugin and upgrade are a must for anyone looking for completely accurate Google Analytics.
You must log in and be a buyer of this download to submit a review.