I'm not in any way affiliated with Moneybird or Easy Digital Downloads. This plugin was not commissioned by any of these parties. Doesn't make it less awesome, though. 😉
EDD Moneybird for Easy Digital Downloads is a light-weight, and very straightforward solution to integrate Easy Digital Downloads with Moneybird and synchronize invoices, refunds and customers.
Are you looking for an alternative, now EDD Moneybird is no longer maintained/sold? This is where you need to be.
Dissatisfied with the previous solution, I decided to build my own Easy Digital Downloads integration for Moneybird which supports everything EDD 3.x has to offer, including:
(Partial) refunds
Manual added purchases
Fees
Discount codes
Compatible with EDD Recurring Payments, Software Licensing, and more…
It also fully integrates with subscriptions offered by EDD Recurring Payments and Software Licensing and supports:
(Negative) Sign-up Fees
Discount Codes, and
(Automatic) Renewals
Don't use Moneybird to send invoices to your clients? No problem! EDD Moneybird also fully integrates with other solutions like:
Simply set Delivery Method to Manual and you're all set! Invoices will be created in Moneybird, but will marked as Sent Manually. Meaning no email is sent by Moneybird.
Backwards Compatibility with Sesam's EDD Moneybird
I've implemented backwards compatibility with Sesam's EDD Moneybird:
(Credit) Invoices generated by that plugin are available for download in the edd_receipt and edd_purchase_history shortcodes/blocks
Their synchronization status can be viewed in the Order History and View Order admin screens.
How it works
EDD Moneybird's easy configuration only takes 1 minute to setup due to Automatic Tax Rate Detection. No mapping of tax rates required!
Configuration
This plugin is meant to be set and forget. The configuration is (very) easy, and (literally) only takes 1 minute to setup!
Authorize your application
Choose the Administration you want to integrate Easy Digital Downloads with
Set the ledger account, workflow, 0% tax rate, reverse charge tax rate, store location, (optionally) enable the Allow Downloading Invoices and/or Exclude Payment Gateways options, and…
You're good to go!
That's it. No more steps are required to connect Moneybird to Easy Digital Downloads!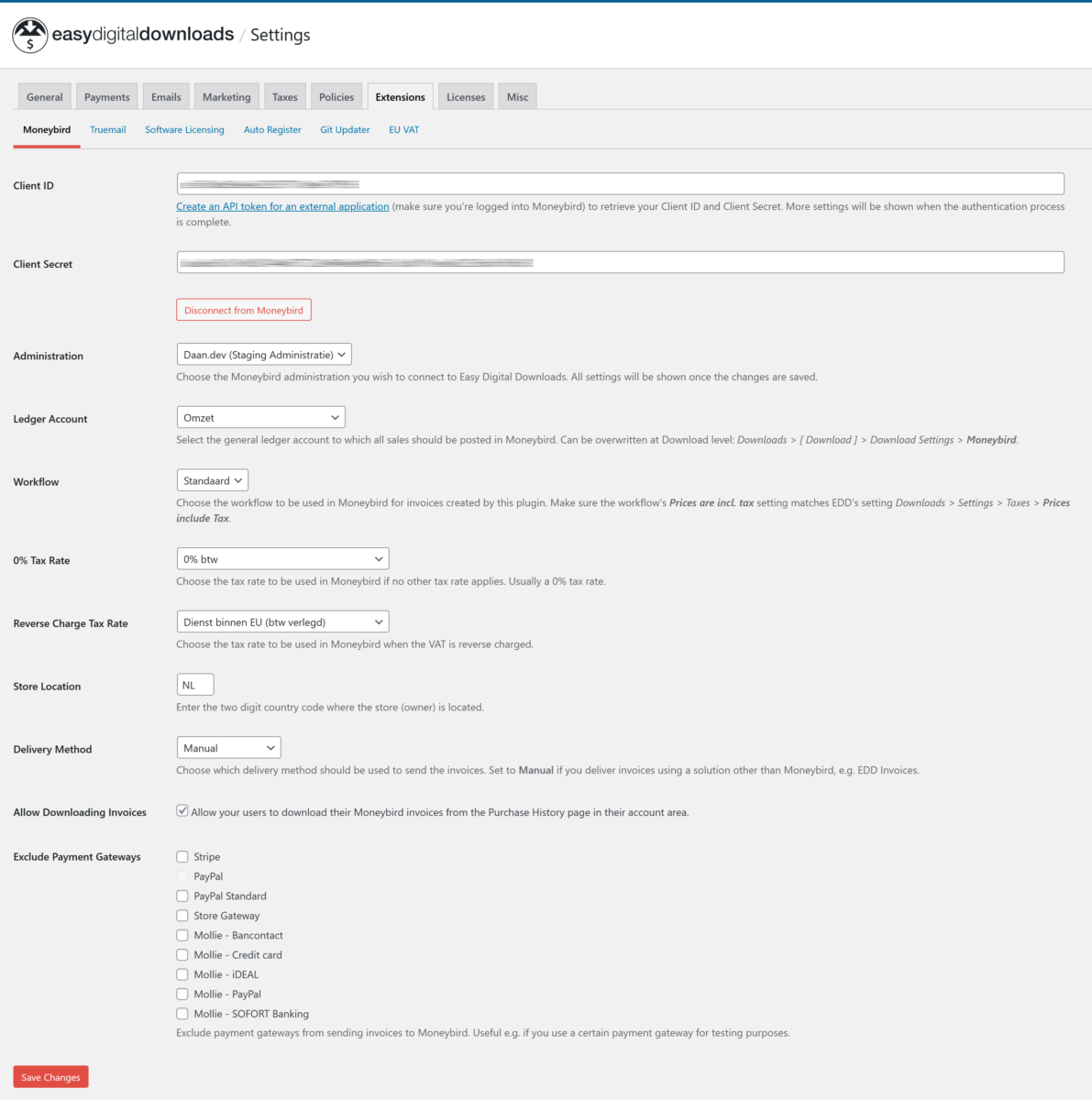 Overwrite Ledger Account at Download level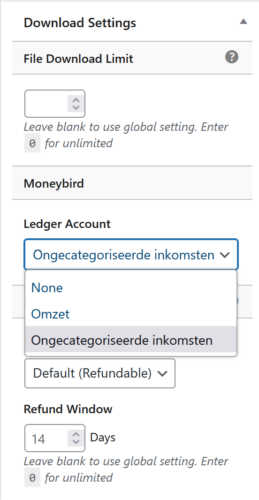 As of v1.3.0, Moneybird for Easy Digital Downloads allows you to overwrite the (global) Ledger Account option at Download level.
As Moneybird already fetched all your available ledger accounts, all that's left for you to do is configure it under Downloads > [ Download ] > Download Settings > Moneybird.
This'll add any sales of that particular download to the configured ledger account in Moneybird. Automatically.
Purchases
When a sale is recorded in Easy Digital Downloads, this plugin takes the data of EDD's payment and customer records and:
Searches for the contact in Moneybird, using the user's email address.
If it does exist, it checks if the contact details are still up-to-date and updates them where needed.
If it doesn't exist, it creates the contact.
It creates the invoice (including (negative) fees and discounts) and uses the Order ID as the invoice_sequence_id. This is not (yet) configurable.
It sends the invoice using the defined Delivery Method.
Automatic Tax Rate Detection
Unlike the other Moneybird plugin for Easy Digital Downloads, this plugin doesn't require you to manually map each EDD tax rate to a Moneybird tax rate. As long as all tax rates you require are present in EDD and Moneybird — which they probably are — they'll be automatically mapped
To keep configuration minimal, quick and painless, only the 0% tax rate and reverse charge tax rate need to be configured.
Automatic Tax Rate Detection is compatible with popular EU VAT plugins and it uses their output to decide whether tax should be reverse charged. It works as follows:
Currently, this plugin is compatible with:
Use another EDD EU VAT plugin? Send me a feature request!
If it's not a reverse charged order, the plugin attempts to find a matching tax rate in Moneybird by using the tax percentage and country code used in the EDD order.
If no matching tax rate was found, it's assumed no tax should be calculated and the configured 0% tax rate is used.
It's worth mentioning that (for reasons unclear to me) negative (subscription/product) fees are never taxed in Easy Digital Downloads. That's why negative fees (i.e. one time discounts or sign up discounts) are always registered in Moneybird with the selected 0% Tax Rate.
Synchronization Status
Synchronization status for your Moneybird invoices is shown in both the Order Details and Purchase History screens.
If for some reason (e.g. invalid email address) synchronization fails, you can easily perform a manual single synchronization from the EDD's Orders or View Order screen.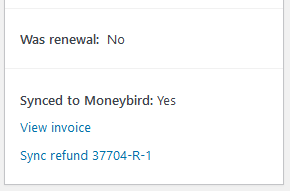 Download Invoices as PDF
When the Allow Download Invoices option is enabled, your users are able to download their invoices as PDF, directly from Moneybird! This means they don't have to send you emails if Moneybird's invoice email didn't arrive for some reason.
The Download Invoice links can be found in two locations:
The Purchase History block (or purchase_history shortcode)
The EDD Receipt block (or edd_receipt shortcode)
Refunds
When creating a (partial) refund, this plugin will request Moneybird to duplicate the attached invoice to a credit invoice. The refunds' order number is used as the invoice_sequsence_id. This is not (yet) configurable.
Finally, a bulletproof, easy solution to sync EDD with Moneybird
Like me, you're a previous user of the other EDD Moneybird plugin and looking for a working alternative. You might've noticed that the solution you used previously is riddled with bugs, is complicated to configure, support is sluggish and it's not on par with Easy Digital Downloads' 3.x current feature set, e.g. Partial Refunds, Discount Codes and Sign-up Fees.
To solve this problem, I built my own Moneybird Easy Digital Downloads integration. Providing you with a simpler interface, intelligent tax rate detection, a bug-free experience, a light-weight codebase (resulting in faster execution), PHP 8 and WordPress 6.x (and higher) compatibility, and excellent support provided by ME!
If you made it this far, the only question that remains is: What're you waiting for? 🙂
You must log in and be a buyer of this download to submit a review.