Nulled plugins; you can either fear it, or you can take it as a compliment. About 2 months ago I found out my WordPress plugins were nulled by so-called GPL websites i.e. "the black market"! I wasn't surprised, so I thought of an original approach to deal with this. Curious yet!?
If Stuff is worth Stealing…
You must be thinking: is he actually happy about this? Well, kind of.
If my stuff is worth stealing, then it must be worth a lot. So, let's say I'm not unhappy about it.
However, since these GPL "marketplaces" are ruining the WordPress ecosystem, and the GPL license in itself isn't helping, I figured it was time for an original approach to this problem.
How GPL "endorses" nulled Premium Plugins
All WordPress plugins (including OMGF Pro and CAOS Pro) are licensed under a so-called GPL license, or a compatible variant.
The (GNU) GPL License basically grants any user of a GPL licensed software to study, share — even sell, and modify the software. It also requires any additions or modifications made to the software to be distributed under the GPL license.
Based on this premise, so-called GPL marketplaces resell popular WordPress plugins. Completely legal.
Why you shouldn't use Nulled Plugins
There's a few reason why you shouldn't use nulled plugins. Some more obvious than others:
Developers need money to pay their bills, so they can focus on maintaining the plugins you love so much. Buying it on the "black market" isn't helping anyone.
Plugins need to be updated to keep up with WordPress updates and new PHP version. You will not receive updates on a nulled plugin — for obvious reasons.
For the same obvious reasons, you will not receive support.
Another not so obvious reason to not use nulled plugins is: security.
To avoid the original vendor's licensing system, the code of nulled WordPress plugins is modified. And usually it goes further than that.
They include malware, usually keyloggers, putting your WordPress website and your visitors at serious risk.
Before you know it, your own and their personal information — including credit card information — is going to the highest bidder on the dark web.
Don't think they won't do it.
WordPress and WooCommerce are the most popular platforms used on the internet. When you go fishing phishing, you pick the pond with the most fish. It's that simple.
The Usual Approach
Before I got creative, I looked at the obvious solutions.
The GPL license doesn't offer a legal premise in these matters — and basically endorses it. So even if I had the funds to pay a lawyer, there's nothing he could do about it.
I played with the "copyright" approach, to see if I could catch them in copying e.g. text or images I published on my blog and/or product pages.
Most of these "marketplaces" use Content Spinners: plugins and/or services that take a text and rewrite it "intelligently". Jujst enough so Google doesn't flag it as duplicate or as a breach of copyright.
In the end I was able to get one copyright violation approved by Google, so it was time to look for a better way to get back at these thiefs.
Make the System Work for You
I realized that these GPL marketplaces don't just copy your plugins. They copy (and spin) everything.
While the content spinners do a decent job rewriting the texts, Google appreciates completely original content i.e. it recognizes when text is written by a bot — and for those who haven't noticed yet; I'm human!
That's one advantage.
The other advantage we have as developers of the plugins is: we're the owners! We were the first to come up with the name, the code, the promotional material, logo, and any and every post ever written about it.
And Google sees eeeeeverythiiiiiiiing.
Taking Advantage of the Situation
We know that people are searching Google for nulled versions of our WordPress plugins. I found out about it for the simple reason that my Google Search console showed that people entered my site by searching for e.g.
So, all I had to do is create a page, focussing on these same keywords, making sure its content is original.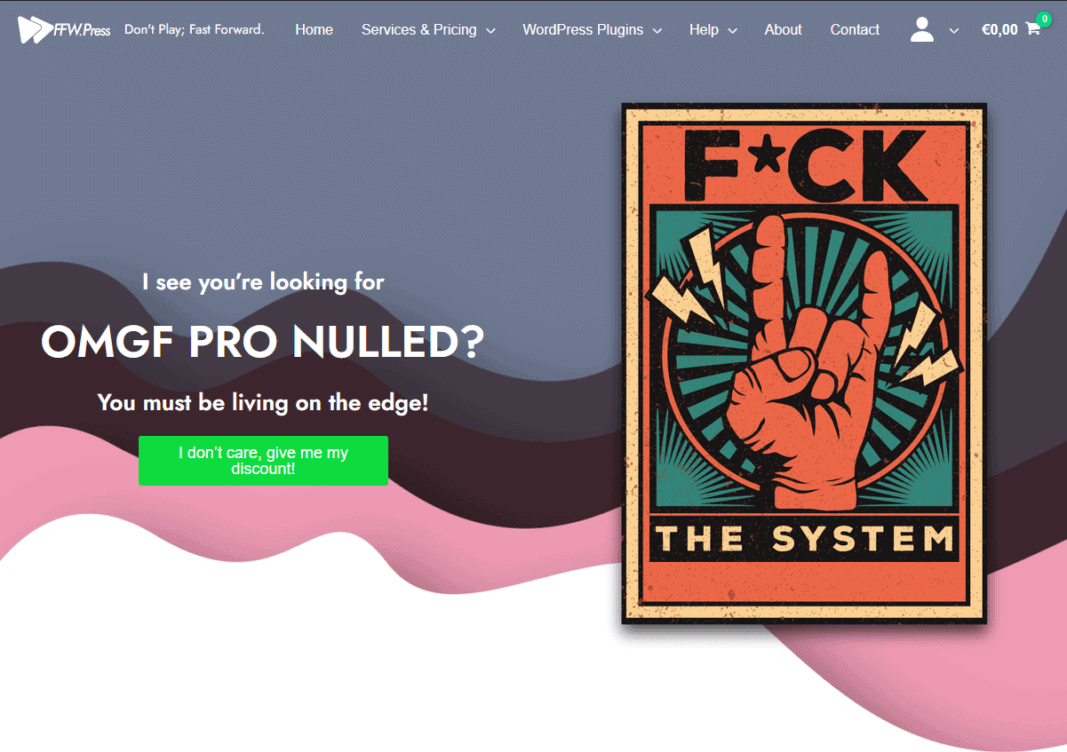 The example in the image is my page focussing on the keyword OMGF Pro nulled. And the fact I just linked the keywords to that page gives it extra Google juice. 🙂
So now we have a page that uses our advantages against the GPL marketplaces, but how do we persuade visitors to purchase your plugin, instead of clicking on the next result and downloading it anyway?
Add an Incentive
People need to be motivated. Especially when they were just planning to steal your stuff, instead of paying for it.
The incentive you think off can be basically anything. Some examples:
A discount coupon,
A free bundled plugin or,
Free installation and configuration.
The possibilities are endless and depend on you entirely. It's whatever you think will motivate them to make the purchase.
Conclusion
As a professional WordPress plugin developer, sometimes it looks like you don't have much working for you. GPL marketplaces copy your stuff and sell it for cheap. However, this doesn't mean there's nothing you can do.
In this post I shared one solution to deal with this and attempt to recover lost revenue. I listed the advantages you have as owner of the product and how to leverage these in Google and pointed out that you should always add an incentive to motivate visitors to purchase them instead of downloading nulled plugins.