You didn't know you need it, but this is my gift to you this holiday season: auto-configuration for subsets in OMGF!
Since I launched OMGF v5.3, ~15% of all support tickets were about the following topics:
After installing OMGF, the website displayed system (i.e. wrong) fonts.
After installing OMGF, every font file is loaded twice.
Etc.
All these tickets had one thing in common: the Used Subset(s) option.
I placed this option in the Local Fonts tab on purpose, assuming that people would see it and check what it's about. But I was wrong. You would either leave it at its default value, select ALL subsets or simply select subsets that weren't available for the Google Fonts found on your site.
It's a mess.
But this mess will disappear forever with today's release of OMGF…
Introducing: Auto-Configure Subsets! 🥳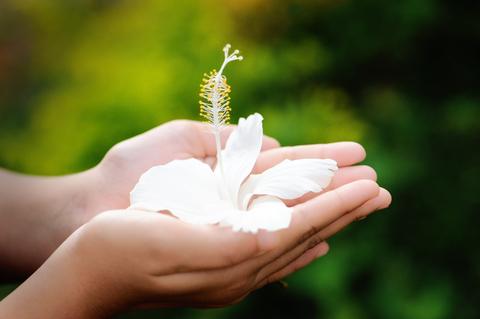 If there's one thing I've learned in the past few years is that you, my beloved users, like to lay back and let us (the plugin developers) take care of it for you. 😜
I don't blame you. Putting a task in good hands, which would otherwise be a headache for you is a no-brainer.
However, my hands can get full sometimes! Especially when the fury of privacy lawyers is raining down on an entire continent!
To relieve my hands, and to save you the hassle, OMGF v5.5 introduces Subset Auto-Configuration!
Uhm… What's a Subset?
I'm guessing the reason why you barely use the Used Subset(s) option is because you simply don't know what it's for. And I have a tendency to get a bit too technical and over-explanatory — not clarifying things at all!
So, before diving into the new feature, allow me to explain what a Subset is, and why it's smart to configure it properly.
International support for Fonts
Through the years, many fonts have evolved to support multiple languages and their corresponding "alphabets". The Google Fonts library consists of many fonts supporting different languages. As an example, let's write "banana" in English (Latin), Russian (Cyrillic), Japanese and Hebrew: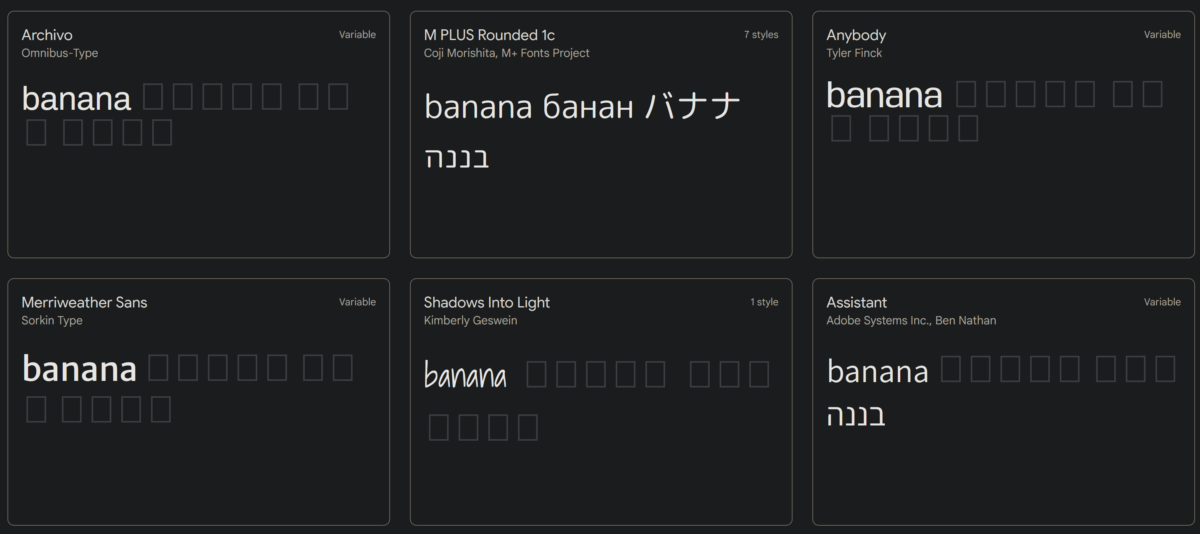 As you can see, most fonts in this example support only a few of these languages and their character sets, but one of them supports all; M Plus Rounded 1c — I mean, what's in a name, right?
Imagine owning an English-language website and loading the M Plus Rounded 1c font in your theme. Because it supports so many different languages, the files are huge — especially Japanese fonts often surpass the 100KB+ mark.
Now what if you could do something about that filesize by only loading the (Latin) characters your (English-language) website needs?
That's where subsets come in.
Subsetting a font-family allows you to only load the (range of) characters that your site requires.
Now that's out of the way. Let's circle back to the awesomeness at hand!
Auto-Configure Subsets
Ever since support for the subset parameter was removed from the Google Fonts API, it has the annoying habit of including all subsets in the stylesheets it generates.
Since its birth, OMGF has always contained ways to get rid of unused subsets. The Auto-Configure Subsets feature is the latest iteration and it couldn't be simpler: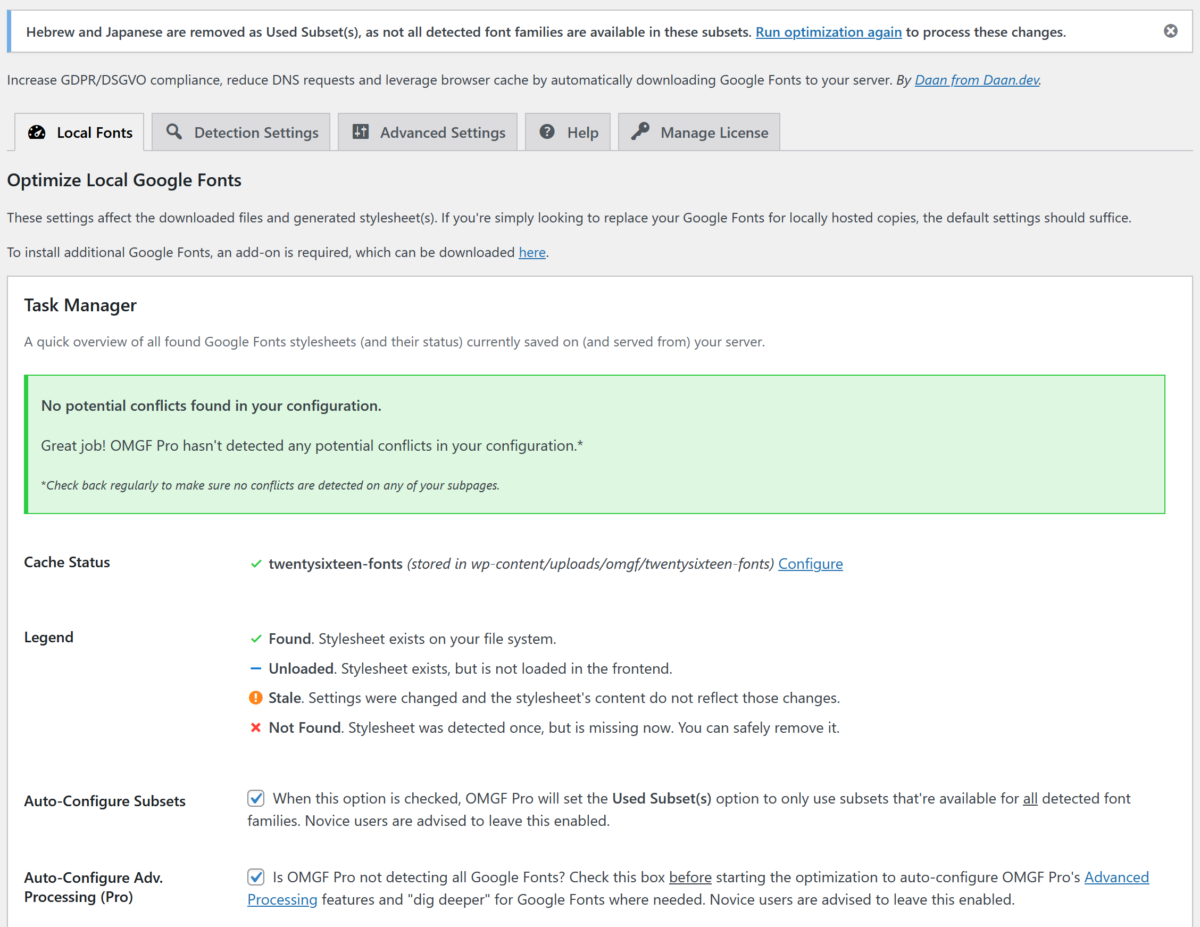 Simply tick the checkbox in the Task Manager and hit Save & Optimize. While searching for Google Fonts, OMGF will automatically compare the current value of the Used Subset(s) option (which is now located under Advanced Settings) to the subsets actually available for the detected fonts. If it updated the Used Subset(s) option during optimization, OMGF will prompt you to run the optimization once more.
Conclusion
While often overlooked, proper usage of font subsetting significantly reduces font filesize and can reduce stylesheet filesize up to 90%.
OMGF v5.5.0 introduces a new feature, called Auto-Configure Subset(s), and offers an easy, fully automated solution for issues caused by a misconfiguration of the Used Subset(s) option, such as:
System fonts are displayed when OMGF is enabled,
Every font weight is loaded twice (or multiple times),
Performance drops when OMGF is enabled.
(Professional) users that install and configure OMGF often will have one less setting to worry about!
I sincerely hope you enjoy this new iteration of OMGF and wish you the happiest and healthiest Holidays! 🎄🎆 See you in 2023! 🍾🥂