WP Fastest Cache is an incredibly easy to configure, efficient plugin when it comes to page caching. It comes in a free and premium flavor, which also offers database optimization tools, among other things. But that's outside the scope of this tutorial.
The free version offers more than enough options to crank up your site's speed, which can be easily configured.
Leverage Browser Cache & Reduce Server Response Time with WP Fastest Cache
WP Fastest Cache (WPFC) will help you get rid of the following suggestions in Pingdom & Pagespeed Insights:
Pingdom:
Remove query strings from static resources
Leverage browser cache
Google Pagespeed Insights
Reduce server response time
Leverage browser caching
At first this plugin's settings might seem intimidating. At first sight it's nothing more than a confusing bunch of checkboxes and tabs.
Don't worry, the only relevant tab for you to visit is the 'settings'-tab as all the other tabs are mostly features only available in WPFC's Premium version.
Settings
The 'settings'-tab offers multiple options to control various aspects of page optimization, such as caching, minifying, combining and reducing page file size. As we'll be using Autoptimize for its minify and combine features, we can focus on WPFC's caching and filesize reduction options.
You should check the following options: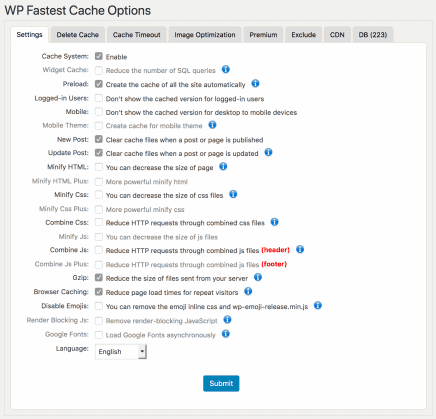 Cache System,
Preload, which preloads certain pages.
In the consequent menu, select
Homepage,
Categories,
Posts,
Pages.
New Post, to clear the caches (Clear All Cache) when a new post is published,
Update Post, to clear the caches (Clear Cache of Post/Page) when a post is updated,
Gzip, to reduce the filesize of the files served by your server. And finally,
Browser caching, to reduce page load times for repeat visitors.
That's it! Using WP Fastest Cache's caching and file reduction features you've given your WordPress blog a great boost, slicing your pageload times in half.
Summary
Your score on Pingdom and Pagespeed Insights should have increased significantly. Within the suggestions, leverage browser caching and reduce server response time should've disappeared for all local resources. Any external resources will still show this suggestion, but we'll get to these later. When you're ready to tweak your website's performance further, move on to the next chapter.