WP Fastest Cache (WPFC) offers combine and minify features in its premium version. Although I don't have any experience with it, I doubt it's superior to Autoptimize. This is by far the most efficient combine and minify plugin for WordPress I've ever come across. It's even suggested by the developers of W3 Total Cache. I've been using it for years and luckily it plays nice with most caching plugins, including WPFC, so you will not face any compatibility issues.
Use Autoptimize to combine/minify external HTML, Javascript and CSS
When setup correctly, Autoptimize takes care of the following suggestions in Pingdom and Pagespeed Insights:
Pingdom:
Minimize DNS lookups
Combine external Javascript
Combine external CSS
Pagespeed Insights:
Minify Javascript
Minify CSS
Minify HTML
Eliminate render-blocking Javascript and CSS in above-the-fold content (although sometimes not completely)
Don't worry, setting it up will be a breeze. Let's begin!
Main Settings
After activating the Autoptimize plugin its settings-page will appear under 'Settings » Autoptimize'. As I mentioned before, setting up the basics is nothing more than checking a few boxes: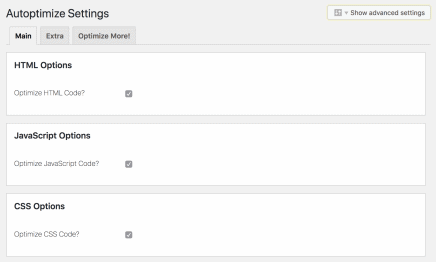 Enable 'Optimize HTML Code',
Enable 'Optimize Javascript Code',
Enable 'Optimize CSS Code',
Click 'Save Changes and Empty Cache'.
Whenever you're ready to continue, click 'Show advanced settings' to unleash Autoptimize's true potential.
Advanced Settings
In the Advanced Settings is where Autoptimize's true power is hidden.
By default, Autoptimize aggregates all enqueued script-files into one single .js-file and places it in the footer of the page. It also adds a defer-parameter to optimize page load.
Both these actions will make Google Pagespeed Insights and Pingdom very happy. It also gathers all CSS-files and places them into one single file.
To make sure these optimizations don't break your lay-out (CSS) and "special effects" (Javascript), we need to tweak the default advanced settings of Autoptimize. Have no fear, for it is really simple. 😉
Enable 'Also aggregate inline JS?'
Enable 'Also aggregate inline CSS?'
Save settings
That's it! You're all done setting up Autoptimize.
Summary
We've tweaked Autoptimize to raise your score in Pingdom and Google Pagespeed Insights significantly. The suggestions minify/combine external CSS, minify/combine external HTML and minify/combine external Javascript should have disappeared. However, Autoptimize is feature-packed and there's plenty more performance for your blog to gain from this WordPress plugin. So, keep reading!