This document contains outdated information.
I've revisited this topic recently, containing more relevant and up-to-date information aligning with the new specifications provided by Pingdom and Pagespeed Insights. If you're looking for an up-to-date, quick and easy way to achieve a 100/100 on Pagespeed Insights and Pingdom. I suggest you follow that link.
Of course W3TC also offers minification-options, but according to the developers, this option is too agressive and will not play nice with every plugin and theme. Luckily, Autoptimize does one thing and it does it very well: minification. Also, it's built to be used in combination with W3 Total Cache, so you will not face any compatibility issues.
The Wait is Over!
Use Autoptimize to combine/minify external HTML, Javascript and CSS
When setup correctly, Autoptimize takes care of the following suggestions in Pingdom and Pagespeed Insights:
Pingdom:
Minimize DNS lookups
Combine external Javascript
Combine external CSS
Pagespeed Insights:
Minify Javascript
Minify CSS
Minify HTML
Eliminate render-blocking Javascript and CSS in above-the-fold content (although sometimes not completely)
Don't worry, setting it up will be a breeze. Let's begin!
Basic Settings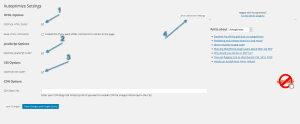 After activating the Autoptimize plugin its settings-page will appear under 'Settings » Autoptimize'. As I mentioned before, setting up the basics will be easy. Follow the steps as shown in the screenshot (click to enlarge):
Enable 'Optimize HTML Code'
Enable 'Optimize Javascript Code'
Enable 'Optimize CSS Code'
And when you feel you're ready to play with the big boy toys, click 'Show advanced settings'
Advanced Settings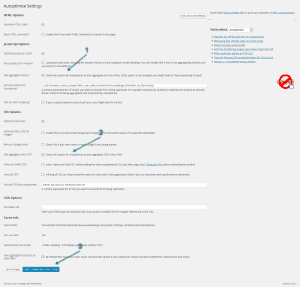 The advanced settings allow fine tuning of Autoptimize.
By default, Autoptimize aggregates all enqueued script-files into one single .js-file and places it in the footer of the page. It also adds a defer-parameter to optimize page load.
Both these actions will make Google Pagespeed Insights and Pingdom very happy. It also gathers all CSS-files and places them into one single file.
To make sure these optimizations don't break your lay-out (CSS) and "special effects" (Javascript), we need to tweak the default advanced settings of Autoptimize. Have no fear, for it is really simple. 😉
Enable 'Also aggregate inline JS?'
Enable 'Also aggregate inline CSS?'
Save settings
That's it! You're all done setting up Autoptimize.
Go ahead and run a check through Pingdom or Google Pagespeed Insights. You'll see that the suggestions minify/combine CSS, HTML and Javascript have disappeared.
Are you happy with your new score? If not, continue reading! In the next chapter we will setup Autoptimize to eliminate render-blocking Javascript and CSS in above-the-fold content.